December 2016
18th
MeiDhwani - Echoes of the Body
Panaji, Goa

November 2016
23rd
AadhaaraChakra - A Dancelogue
NCPA, Mumbai

October 2016
27th
Bhinna Vinyasa Preview
Gurunanak Bhavan, Bangalore

August 2016
20th
Attakkalari Graduation Day, 10th Year Celebration
Regional Theatre, Thrissur

16th
Attakkalari Graduation Day, 10th Year Celebration
The Music Academy, Chennai

13th
Attakkalari Graduation Day, 10th Year Celebration
Guru Nanak Bhavan, Bangalore

6th-7th
Masterclass by Attila Egerházi
Attakkalari Studios, Bangalore

July 2016
30th-31st
Dance/Physical Theatre workshop by Carlos Pons Guerra
Attakkalari Studios, Bangalore

30th
Community Showcase
Attakkalari Studios, Bangalore

23rd-24th
Workshop on Contemporary Dance by Jayachandran Palazhy
Chennai

22nd
A Talk on Dancing Gender by Carlos Pons Guerra
Attakkalari Studios, Bangalore

17th
Repertoire Workshop with Carlos Pons Guerra
Attakkalari Studios, Bangalore

June 2016
19th
Angavyuh
Balatonfüred, Hungary

19th
Angavyuh
Esztergom, Hungary

18th
Angavyuh
Szentendre, Hungary

18th
Angavyuh
Városháza Park, Budapest, Hungary

17th
Angavyuh
Vigado Theatre, Budapest, Hungary

16th-20th
Flying Low and Improvisation Workshop by Narendra Patil
Attakkalari Studios, Bangalore

4th-5th
Advanced Workshop on Lighting Design
Attakkalari Studios, Bangalore

May 2016
31st
Master Class in Kuttiyattam with Usha Nangiar
Attakkalari Studios, Bangalore

17th
Masterclass in Thevarattam with Shri Nellai Manikandan
Attakkalari Studios, Bangalore

April-May 2016
30th-14th
Summer Workshop
Attakkalari Studios, Bangalore

April 2016
9th-22nd
Summer Workshop
Attakkalari Studios, Bangalore

30th
MeiDhwani: Echoes of the Body
Sophia Bhabha Auditorium, Mumbai

March 2016
18th
MeiDhwani: Echoes of the Body
Jawahar Kala Kendra, Jaipur

February 2016
20th-21st
Masterclass in The Zooz Method with Opay L. Goldberg
Attakkalari Studios, Bangalore

20th-21st
Masterclass in Contemporary Movement with Stefano Fardelli
Attakkalari Studios, Bangalore

14th
Masterclass in Chhau with Shri Laxmidhar Mohanta
Attakkalari Studios, Bangalore

January 2016
30th
Santhulan 2016
Gurunanak Bhavan, Bangalore

21st
Workshop with 2Faced Dance Company
Attakkalari Studios, Bangalore

August 2015
14th
Diploma Graduation
JSS Auditorium, Bangalore

July 2015
8th
AadhaaraChakra & MeiDhwani Excerpts
DST Auditorium, University of Hyderabad

5th
AadhaaraChakra - A Dancelogue
JTPAC, Kochi

June 2015
6th
AadhaaraChakra & Bhinna Vinyasa Excerpts
MCPH, Manipal

February 2015
15th
A Male Ant Has Straight Antennae
Ranga Shankara, Bangalore

13th-14th
Black Out
Ranga Shankara, Bangalore

13th
Cesc Gelabert V.O. +
Alliance Francaise de Bangalore

12th
Timeless
Chowdiah Memorial Hall, Bangalore

11th
4 : Still Life
Ranga Shankara, Bangalore

10th
Pattern and Variable
Ranga Shankara, Bangalore

10th
Platform 15
Alliance Francaise de Bangalore

9th
The Past
Chowdiah Memorial Hall, Bangalore

9th
Platform 15
Alliance Francaise de Bangalore

8th
LES CHANTS DES L'UMAI
Ranga Shankara, Bangalore

8th
FACETS
Alliance Francaise de Bangalore

7th
The Measures Taken
Ranga Shankara, Bangalore

7th
FACETS
Alliance Francaise de Bangalore

6th
4, 5
Chowdiah Memorial Hall, Bangalore

December 2014
11th
Absence Presence
UB City, Bangalore

November 2014
16th
Master class with Avant Garde
Attakkalari Studios, Bangalore

14th-15th
Excerpts from AadhaaraChakra - A Dancelogue
Dewan Bandaraya City Hall, Kuala Lumpur (Malaysia)

October 2014
27th-28th
Master class with Scottish Dance Theatre
Attakkalari Studios, Bangalore

September 2014
16th
Master class with Hofesh Shechter Company
Attakkalari Studios, Bangalore

August 2014
26th-27th
Attakkalari India Biennial 2015 Launch
Ranga Shankara, Bangalore

22nd
Diploma Graduation
JSS Auditorium, Bangalore

June 2014
28th
AadhaaraChakra - A Dancelogue
Kerala Fine Arts Hall, Kochi

May - June 2014
31st-1st
Advanced Light Design Workshop
Attakkalari Studios, Bangalore

May 2014
24th-25th
Silambam & Theverattam Master class
Attakkalari Studios, Bangalore

April - May 2014
21st-3rd
Summer Workshop
Attakkalari Studios, Bangalore

April 2014
5th-6th
Kootiyattam & Mizhavu Master class
Attakkalari Studios, Bangalore

March 2014
5th
Master class with Hofesh Shechter
Attakkalari Studios, Bangalore

December 2013
7th
Santhulan
Alliance Francaise de Bangalore

October 2013
24th
MeiDhwani - Echoes of the Body
Kalamandir, Kolkata

23rd
AadhaaraChakra - A Dancelogue
Kalamandir, Kolkata

14th
AadhaaraChakra - A Dancelogue
Divaldo Archa Theatre, Prague (Czech Republic)

10th-12th
MeiDhwani - Echoes of the Body
Halles de Schaerbeek, Brussels (Belgium)

4th-5th
AadhaaraChakra - A Dancelogue
BNM Grand Studio, Marseille (France)

August 2013
29th
AadhaaraChakra - A Dancelogue
Fabrics India warehouse, Chennai

18th-19th
Bahuchari Mata - auditions
Attakkalari Studios, Bangalore

17th
Diploma Graduation
JSS Auditorium, Bangalore

May 2013
25th-26th
Light Design workshop
Attakkalari Studios, Bangalore

April - May 2013
29th-11th
Summer movement workshop
Attakkalari Studios, Bangalore

April 2013
26th
MeiDhwani - Echoes of the Body
Ishanya Mall, Pune

March 2013
22nd
Bardo Beings
Jamsteady Princeton Club, Kolkata

February 2013
5th
MeiDhwani - Echoes of the Body
Regional Theatre, Thrissur

3rd
K-Style
Ranga Shankara, Bangalore

3rd
FACETS
Alliance Francaise de Bangalore

3rd
Lanx / Obtus
ADA Rangamandira, Bangalore

2nd
Lanx / Obtus
ADA Rangamandira, Bangalore

2nd
Transitions
Max Mueller Bhavan/Goethe Institut, Bangalore

1st
Odyssey Complex
Ranga Shankara, Bangalore

1st
FACETS
Alliance Francaise de Bangalore

January 2013
31st
White Caps
Ranga Shankara, Bangalore

31st
FACETS
Alliance Francaise de Bangalore

31st
Platform 13
Guru Nanak Bhavan, Bangalore

30th
Glimpses
Chowdiah Memorial Hall, Bangalore

30th
Platform 13
Guru Nanak Bhavan, Bangalore

29th
Beautiful Thing 2
Ranga Shankara, Bangalore

29th
Esnes.no.n2
Alliance Francaise de Bangalore

28th
Changeable Cohesion
Chowdiah Memorial Hall, Bangalore

27th
Urban Ballet
Chowdiah Memorial Hall, Bangalore

27th
Transitions
Max Mueller Bhavan/Goethe Institut, Bangalore

26th
Glow
Ranga Shankara, Bangalore

26th
FACETS
Alliance Francaise de Bangalore

25th
Manganiyar Seduction
Jayamahal Palace, Bangalore

19-20th
Attakkalari Studios, Bangalore

December 2012
4th
MeiDhwani - Echoes of the Body
NCPA, Mumbai

1st
AadhaaraChakra - A Dancelogue
Purana Qila, New Delhi

November 2012
23rd
AadhaaraChakra - A Dancelogue
Ravindra Kalakshetra, Bangalore

10th-11th, 17th-18th
Masterclass by James MacGillivray
Attakkalari Studios, Bangalore

October 2012
31st
MeiDhwani - Echoes of the Body
IGNITE Festival of Contemporary Dance 2012, New Delhi

25th
Scottish Dance Theatre
Chowdiah Memorial Hall, Bangalore

August 2012
24th
Diploma Graduation
JSS Auditorium, Bangalore

21st
Thang Ta workshop
Attakkalari Studios, Bangalore

2nd
Pollinator 1 Bee Festival
Hyatt Regency, Chennai

June-July 2012
22nd-23rd, 30th-1st
Masala FX
Palace Grounds, Bangalore

May 2012
11th-13th
Devarattam & Silambham workshop
Attakkalari Studios, Bangalore

5th
Swa Atman & Temps d'arrêt
Alliance Francaise de Bangalore

April 2012
27th
rangTARANG
Chowdiah Memorial Hall, Bangalore

April - May 2012
23rd-5th
Summer movement workshop
Attakkalari Studios, Bangalore

March - April 2012
31st-22nd
Weekend Light Design workshop
Attakkalari Studios, Bangalore

March 2012
24th
Kentaro!! Performance
Attakkalari Studios, Bangalore

February 2012
25th
BANG BANG
Malleswaram Bus Stand, Bangalore
24th
BANG BANG
Attakkalari Studios, Bangalore
6th-26th
Samir Akika / Unusual Symptoms
Attakkalari Studios, Bangalore
4th-5th
Workshop
Melbourne Arts Centre, Melbourne
January - February 2012
January, 2012
16th-28th
Workshop with Richard Siegal
December, 2011
18th
Young Choreographers Platform, Nagarika
Bharatiya Vidya Bhavan, Cochin
17th
MeiDhwani
Kerala Fine Arts Hall, Cochin
8th-11th
"Exploring the Senses - Emotions, Performativity, and Ritual"
Clubhaus FU Berlin, Germany
2nd
Young Choreographers Platform
November, 2011
29th
Young Choreographers Platform, Nagarika
SPACES, Elliots Beach Chennai
11th
MeiDhwani
J.S.S. Auditorium, Bangalore
5th-8th
Synchronous Objects (William Forsythe)
Goethe-Institut/Max Mueller Bhavan Bangalore & Attakkalari
October, 2011
19th
Nagarika Presentation & Master classes
Museum of World Culture, Gothenburg, Sweden
17th-18th
Workshop on "Textiles & Performance"
Swedish School of Textiles, Sweden
12th
MeiDhwani
Theatre im Pumpenhaus, Munster
11th-13th
Nadir, Uyire, Padheyam, Uruvam
Tanzhaus nrw, Dusseldorf , Germany
7th, 8th
MeiDhwani
Kunstlerhaus Mousontrum, Frankfurt
2nd
Traces
14th Seoul International Dance Festival
September, 2011
10th-18th
Philadelphia Live Arts Festival
7th
MeiDhwani preview
Ravindra Kalakshetra,Bangalore
August, 2011
19th
Diploma Graduation Ceremony
June, 2011
4th
Nadir & Uyire
Alliance Francaise, Bangalore
May-June, 2011
23rd-2nd
Beyond Project
Amsterdam, The Netherlands
April-May, 2011
30th-1st
Low Lives 3
http://www.ustream.tv/channel/low-lives-3
April, 2011
22nd
Learning & Participation Project
South Bank Centre, London, UK
20th
Farewell in honour of Dr. Evelin Hust
Goethe- Institut/Max Mueller Bhavan, Bangalore
19th
Chaaya
South Bank Centre, London, UK
11th-21st
Alchemy Festival
South Bank Centre, London, UK
9th
Rush & Padheyam
Greenwich Dance Agency, London, UK
3rd
Uruvam
Pavilion Dance/ Dance South West, Bournemouth, UK
2nd
Rush & Padheyam
Pavilion Dance/ Dance South West, Bournemouth, UK
March, 2011
February, 2011
January 2011
28th
Corporeal Kaleidoscpoe
National Gallery of Modern Art, Bangalore
November-December, 2010
27th-19th
Beyond Project
Amsterdam, The Netherlands
November, 2010
October, 2010
31st
Sanchaari
Mammen Mappilai Hall, Kottayam
8th
Sanchaari
Tagore Centenary Hall, Calicut
September, 2010
8th
Sanchaari
Regional Theatre, Trichur
5th
Sanchaari
Kerala Fine Arts Society, Cochin
4th
Young Choreographers Platform Showcase
August, 2010
20th
Diploma Graduation Ceremony
Seva Sadan Association, Bangalore
July, 2010
17th
Auditions for Diploma Programme
June, 2010
26th
Auditions for Diploma Programme
Terence Lewis Dance Company, Mumbai
12th
Uruvam & Chaaya
Alliance Francaise, Bangalore
April, 2010
20th
For Pina...
National Centre for Performing Arts, Mumbai
March, 2010
26th-28th
Chronotopia
Künstlerhaus Mousonturm, Frankfurt, Germany
18th
Evening of Young Choreographers
Museum of World Culture, Gothenburg, Sweden
14th
Chronotopia
Staasts Theater, Schauspielhaus, Germany
February, 2010
5th
For Pina...
Max Mueller Bhavan, New Delhi
2nd
For Pina...
Qutub Shahi Tombs, Hyderabad
January, 2010
30th
For Pina...
Ranga Shankara, Bangalore
28th
For Pina...
Spaces, Elliot Beach, Chennai
19th
Chronotopia
Abhimanch Theatre, New Delhi
17th
Chronotopia
Antarang Theatre, Bharat Bhavan, Bhopal
The best way to kick-start 2017 with some good dancing.
Sankshipta - a three month certificate course - announces the next batch beginning in January, 2017. This crisp and befitting course for working professionals and college students will engage you in Contemporary Dance and allied disciplines and have you wanting for more. If you want to dance and think may be it is too late, come join us. It is never too late at Attakkalari!
The course is tentatively slated to commence on the 12th January, 2017. The classes will be on Thursdays, Fridays, Saturdays and Sundays. Thursday and Friday from 7 am to 8.30 am and on Weekends, 7 am to 10.30 am. ​Sankshipta will primarily​ have classes in Contemporary Dance​ and brief modules in​ Kalaripayattu, Bharatanatyam, Ballet and Body conditioning. ​There will be a​ public​ ​p​resentation at the end to showcase what​ was learnt during the course​.​ The course fee is Rs.30,000.
Registrations open now! Interested candidates can register yourself here.
PLATFORM 2017: Final List Announced
We are delighted to announce the list of selected candidates for Platform 17!
Envisioned as a forum to showcase the work of a choreographer/movement artist, as a whole or as work-in-progress, the Platform 17 is an integral part of the Attakkalari India Biennial 2017. Platform is a space for practitioners to showcase their work, engage with an international panel and it aims to lay the foundation for a network that connects artists, technicians, academicians, pedagogues and audience members facilitating new and quality work in contemporary movement arts subsequently. The choreographers selected for Platform 17 will be showcased at Attakkalari India Biennial.
More details here.
List of selected candidates here
Workshops by Jayachandran Palazhy in Chennai
Leading up to the graduation performances, Attakkalari is celebrating contemporary movement arts through a series of workshops, master classes, and auditions in Chennai and Bangalore. Facilitated by Artistic Director Mr. Jayachandran Palazhy, the workshops aims to introduce Attakkalari's unique contemporary dance to professionals and students in Chennai. Attakkalari combines a unique blend of traditional dance styles, such as Kalaripayattu and Bharatanatyam, with contemporary, ballet, and other international styles. In an attempt to make movement arts available to everyone, this workshop will be free of charge.
Saturday, 23rd of July 2016 – John Britto's Dance Company, Nungambakkam
Sunday, 24th of July 2016 – The Swingers Dance Studio, Kodambakkam 11:00am to 1:00pm both days
To register, call 080 4146 7690 / 9739790793 or click here
Note: This workshop also doubles as an audition for those interested in the diploma programme. If you are auditioning, come prepared with a short work of your own choreography.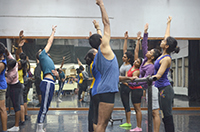 Workshops and Talk by Carlos Pons Guerra
Carlos Pons Guerra is currently working at Attakkalari with the support of the British Council. Originally from Spain, Guerra is the founder and artistic director of his own studio, DeNada Dance Theatre in Britain. Working internationally, exploring unique subjects through choreography and dance, he was nominated in 2015 for the Critics Circle National Dance award and his triple bill, Ham and Passion went on an extremely successful national tour.
TALK Friday, 22nd July, 2016, from 6:30pm-7:30pm – One hour talk, followed by discussion – Open to everyone. Based on the topic 'Dancing Gender- What I did with My Leg of Ham', Carlos will share insights about his choreography and gender performance.*The lecture will explore sensitive subjects and imagery* To attend the event register here
DANCE/ PHYSICAL THEATRE WORKSHOP Saturday, 30th and Sunday, 31st July 2016– 3:00pm to 6:00pm on both days (you must attend both days). This workshop is based on his personal approach to narrative dance and is open to anyone interested in dance, theatre, and/or performance. A special opportunity to learn how to express a character on stage, these two days will be full of movement and theatrics. Each day will consist of warm ups, movement and how to convey emotion through movement. This workshop will focus on how to create an emotion and have it read correctly to an audience, bringing them with the performer on an emotional journey. Register for the workshop here

Carlos Pons Guerra is a world renowned choreographer and dancer. He uses a unique theatrical style to captivate the audience and leave them awestruck. Though somewhat comedic, his works include complex stories and explore incredibly heavy subjects. This talk is open to anyone interested in gender performance (dancers, actors, choreographers, artists, academicians, etc.) to explore the world of dance and gender with Carlos. It will be a unique opportunity for the participants to see inside the mind of this choreographer, who explores and experiments with ideas of gender construct in history through dance.
Attakkalari performs at the Ganges-Danube Festival in Hungary
Attakkalari is one of the companies chosen to represent India at the 'Ganges-Danube: Cultural Festival of India' in Hungary organised by the Embassy of India, Budapest. The cultural fiesta will be held from 17th to 19th June 2016 in nine cities of Hungary including Balatonfured, Budapest, Eger, Esztergom, Szentendre, Sopron, Nagykanizsa, Szeged and Debrecen. The first performance will be in Budapest for the inaugural ceremony of the festival following which the company will perform in four other cities of Hungary.
Attakkalari will perform its latest production 'Angavyuh' on this tour. In Angavyuh, unique and salient features of the martial art form, Kalaripayattu from Kerala, arguably one of the most ancient combat techniques in the world, are woven together in an exciting choreography set to a riveting sound-score enriched by the majestic rhythms and reverberating sounds of live Mizhavu drumming and the mellifluous beats of Idakka to create a visually stunning and aurally captivating performance. For more details mail us: repertory@attakkalari.org
Photography Credits:
Vivek Prabhu, Park Sang-Yun, Sara Davis, T.V.Sebastian Varkey, Andy Ross, Dilip Banerjee, Anoop Kumar, Sudeep Bhattacharya, David Coleman, Anand K, Carlos Collado & Attakkalari, Tejovanth N, Suneeth Halgeri, The Hindu
Attakkalari is supported by The Royal Norwegian Embassy, Sir Ratan Tata Trust, Tata Education Trust and the Department of Culture, Government of India.